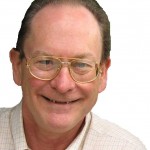 Bruce Daniels has a Ph.D. from the University of California Santa Cruz in Hydroclimatology (the science of how climate change impacts water resources). His advisers were Professor Lisa Sloan (climatology) and Professor Andy Fisher (hydrology). The Ph.D. dissertation was entitled "Hydrologic Response to Climate Change in California: Observational and Modeling Studies".
He is on the Board of Directors for the Soquel Creek Water District for which he serves as its President. He previously was appointed by the Governor to two terms as a Member and elected as the Chair of the California Regional Water Quality Control Board for the Central Coast.
In the past he had a 30 year long career in computer science work as mentioned in this Wikipedia article.